During this course you will...
Learn my 5 Step Effective Dashboard Building Process

(

™

).

Understand the importance of defining the dashboard business requirement and

the key question you need to ask upfront

to lay the foundation for an effective dashboard.

Import data into Power BI from Excel.
Create calculated columns and measures using DAX to support backlog calculations.
Add and customise visualisations in Power BI Desktop to display backlog KPIs.
Set conditional formatting to highlight problems with high backlog.

Create a drillthrough report to display the list of underlying work orders allowing you to get right to the detail quickly.

Create a schedule opportunity grid to highlight which work orders should be considered for the scheduling.
Publish the report to the Power BI Service to allow access through the web.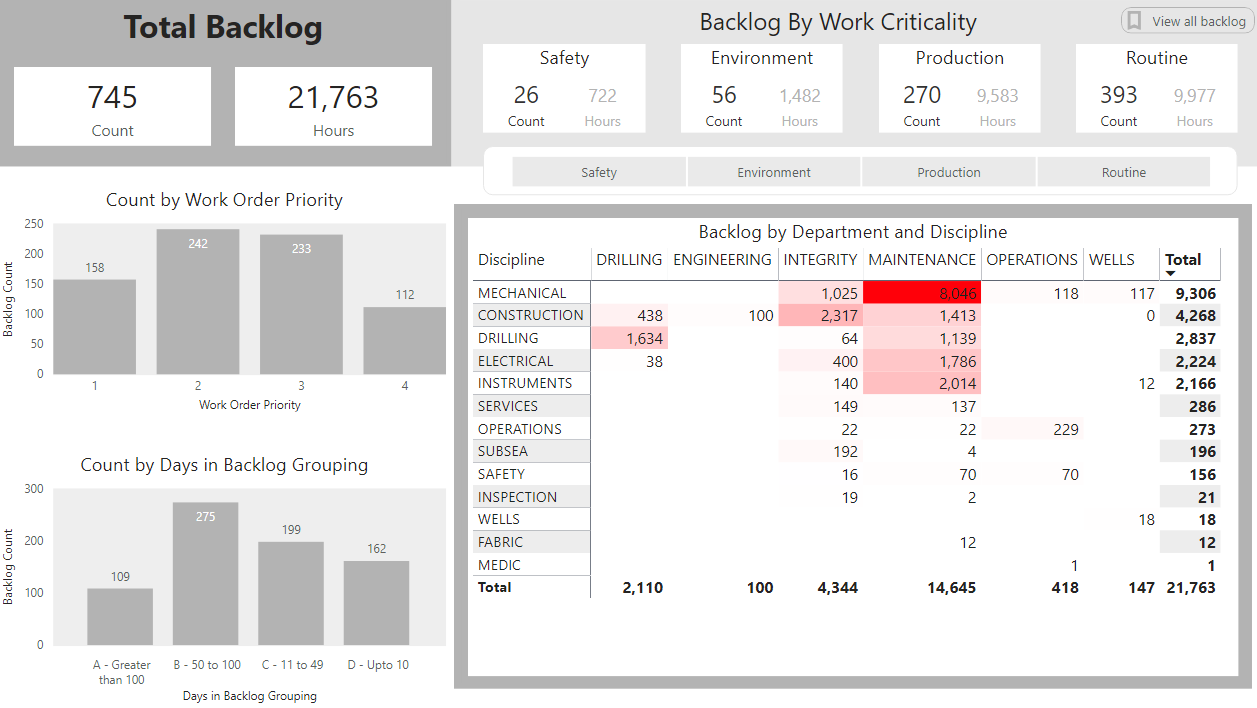 Work Order Analysis Dashboard
Calculates and displays backlog by count of work orders and number of man-hours.
Review count by work criticality, work priority and number of days in backlog.
Review man-hours by department and discipline (craft).
Conditional formatting to highlight areas of high backlog
Backlog Work Order Details Report
Displays the list of work orders in backlog.
Filter by Department, Discipline, Work Type, Condition For Work, Work Order Status or Days in Backlog Grouping.
Schedule opportunity matrix to identify which work order can be added to the next weekly schedule.
Display a colour coding key using Power BI tooltips.